The Latest Outdoor Routers
EZR33L Series – Outdoor 4G routers in new waterproof enclosures.
2022 New EZR33L Routers
Upgraded from the legacy model of EZR33, the EZR33L series outdoor 4G routers have a new waterproof enclosure for the most demanding applications.
IP67-rated enclosure with water resistance protection
4G router withstand extreme weather (-40°C ~ +80°C)
Lightweight aluminum housing with outdoor coating
Upgraded flexible and easy using mounting bracket
EZR33L in Waterproof Enclosure
The EZR33L series outdoor routers use the new enclosure, which is IP67 certificated and made from lightweight aluminum. The white color outdoor coating helps improve anti-corrosion outdoors.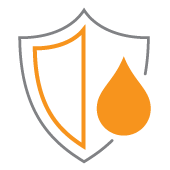 Durable enclosure with waterproof protection for demanding environments. Seals and gaskets protect against water and dust.
Made from anti-corrosion aluminum material with outdoor coating. Passed percolation test & salt spray test.
Remote & Rural Area
Receive stronger outdoor signals. No setting fee, no cable bills. Fast LTE internet.
Industrial & IoT Internet
Rugged internet connection for industrial applications, water treatment & construction sites.
Temp 4G-LTE Internet
Use a SIM card to set up a temporary internet for outdoor events, campsite, RV & boat.
EZR33L 4G Modem SIM Slot
EZR33L is a standalone 4G WiFi router with an LTE modem, SIM card slots, and a WiFi hotspot. It supports various 3G/4G modems to use in different countries. The most popular model is CAT6, which has a 300Mbps max download speed.
| | | | |
| --- | --- | --- | --- |
| LTE Category | Maximum Download | Carrier Aggregation | 3GPP Release |
| CAT1 | 10 Mbps | No | Rel 8 |
| CAT4 | 150 Mbps | No | Rel 8 |
| CAT6 | 300 Mbps | 2x | Rel 10 |
IP67 Waterproof Enclosure
Supports CAT4/6 Modem
Dual SIM Card Slots
WiFi Covers 150-300 Yards
48V PoE with LAN Ethernet
Robust N-type Antenna Ports
Supports 12V DC Power
EZR33L Router with External Antennas
The outdoor external antennas capture the best outdoor signals with fewer barriers & RF interferences. 
The robust Omni-directional antennas pick mobile 4G signals in all directions. In addition, you can replace them with higher-gain directional antennas.
EZR33L with 2x LPDA antenna sets
High-gain Outdoor 4G Antennas
Money Back Warranty
You may return the shipment for a full refund within 15 days, and you will get the 1-year quality warranty from the date of receiving the shipment.
Read more..
Fast & Free Shipping
We have guaranteed safe express delivery from global warehouses and local shipment to the UK, USA, Canada, Australia, and Germany.
Read more..