Why Use An Outdoor Router?
Slow cable internet?
Weak 4G router signals indoors?
The outdoor 4G router has external antennas to receive the best available outside mobile signals and connect your computers and cameras with fast-speed LTE internet.
The 4G router has an unlocked broadband LTE modem and nano SIM card slots to work with any mobile carriers in your area. Read more about how does the 4G router work?
4G Router with External Antennas
The outdoor external antennas capture the best 4G LTE coverage without indoor radio frequency (RF) interferences and fewer barriers.
The robust Omni-directional antennas pick mobile 4G signals in all directions. In addition, you can replace them with higher-gain directional antennas on the modular designed antenna ports.
Outdoor LTE Modem with WiFi & Ethernet
A 4G router has the LTE modem and SIM card slots to connect to the mobile network. It provides a standalone WiFi access point in outdoor and wired Etherent connections.
Outdoor MIMO WiFi CPE
The standalone MIMO WiFi hotspot provides fast speed and significant wireless coverage, 150~300 yards. It links a max of 57 devices to the 4G internet simultaneously. WiFi relay and guest WiFi are integrated.
Long-distance PoE Power
The outdoor router uses electric power from a PoE injector, which supports a max 54-yard LAN cable, and provides an Ethernet connection for the hubs and extra routers.
4G WiFi Outdoor Router Applications
The industrial-grade 4G WiFi router in a waterproof enclosure withstands extreme weather and provides lighting protection.
Remote & Rural Area
Enjoy the fast-speed 4G LTE internet even in remote areas. Get rid of slow cable internet.
Harsh Environments
Rugged 4G internet gateway for industrial applications, construction sites, etc.
On Boat & Caravan
Stay connected anywhere you go.
Travel with 4G WiFi router.
IP67 Waterproof Enclosure
Supports CAT4/6/12 Modem
Nano SIM Card Slot
WiFi Covers 150-300 Yards
48~52V PoE with Ethernet
Robust N-type Antenna Ports
Supports 12V DC Power
Compare Outdoor 4G Router
A simple comparison of our outdoor 4G WiFi router with the other outdoor 4G/WiFi build plans.
Note: Suggest not to use a 4G router with mobile signal booster due to noise level control.
vs 4G Router in Outdoor Box
Both can work outdoor and connect to the 4G LTE mobile network. Our outdoor 4G router has a waterproof & anti-corrosion enclosure.
It's fully industrial designed to work outdoor and withstand extreme weather, even -40°C cold and +80°C hot temperatures.
It integrates lighting protection of common 6KV & differential 1.5KV that is not included in indoor routers.
vs 4G Router w/ External Aerial
Mobile signals are simulative frequency waves and attenuate while traveling down the coaxial cable.
The outdoor 4G router transforms 4G internet to digital signals to send through LAN cable with minimum attenuation. The PoE connection supports a max 54-yard LAN cable and allows multiple PoE extenders to expand LAN cable distance.
Both can work outdoor to provide extensive wireless coverage with a WiFi relay function.
WiFi CPE usually comes with a non-full waterproof box at a lower price. The ports might get rust after a long period of working.
WiFi CPE relies on an existing internet gateway. Outdoor 4G router works standalone with SIM card slot to obtain internet from mobile networks.
We have guaranteed safe express delivery from global warehouses and local shipment to the UK, USA, Canada, Australia, and Germany.
You may return the shipment for a full refund within 15 days, and you will get the 1-year quality warranty from the date of receiving the shipment.
Full-scale Technical Supports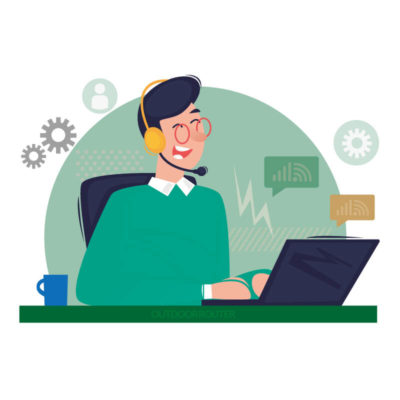 The network configurations can be complicated for many users.
Do not worry! We take care of all your network issues.
We provide tested tutorials and online manuals. In addition, there is a vast online guidance for open-source 4G router firmware.