Outdoor 4G Router LTE Modem
Rugged outdoor 4G modem router for remote home internet, rural areas, and industrial sites.
The 4G outdoor router has a LTE mobile modem and SIM card slot inside. It uses included external antennas to receive the best outdoor mobile signals and connect to the 3G/4G networks to provide reliable internet. The rugged outdoor router is optimized to provide mobile internet with robust connectivity for harsh conditions.
Outdoor External Antennas
Receiving the best 4G mobile signals in the outdoor area.
Avoids interference with indoor home appliances.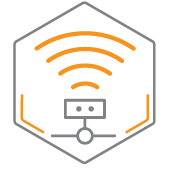 Outdoor Wireless WiFi Coverage
Outdoor WiFi covers 150-399 yards for outdoor devices.
Provides a 1-Gigabit wired LAN Ethernet on PoE injector.
---
The above typical 4G Outdoor Routers are for use in the United Kingdom, North America, Europe, and Australia. We provide global mobile internet solutions for all the countries. Check more on the Global Modem Routers.
The SIM card routers use the mobile modem categories to define the internet connectivity performance, such as the upload and download speed rates. We provide various 4G-LTE modems from CAT1 to CAT20. Check more about Mobile Modem Categories.
The latest Outdoor 5G Router is your best choice for high-traffic demands.
Modular Design Hardware
Featured by modular design and flexible configuration, the outdoor routers have been installed in diverse scenarios worldwide.
Open Source Firmware
The cellular router firmware is open-source yet powerful with mobile drivers, multi-WAN, firewalls, VPN tunnels, software centers, and more.
Need more? We provide extended customization options and OEM services tailored to your unique needs.
Check the Success Stories of the other users!
Got a question? Contact us to get technical support.