Waterproof Router
Your robust outdoor 4G WiFi internet gateway in a waterproof enclosure!

The outdoor waterproof router is designed to provide reliable 4G WiFi connections in challenging environments, harsh rugged deployments, or any applications requiring flexible 4G mobile WiFi coverage.
It has industrial-grade circuit components and a weatherproof enclosure and can work well in extreme weather, even -40°C cold and +80°C hot temperatures.
Tested below water in an immersion tank for 30 minutes.
Certificated by IP67 standards of IEC 60529: 1989 + A1: 1999 + A2: 2013.
WEATHER-PROOF ENCLOSURE
The outdoor enclosure is made from lightweight anti-corrosion aluminum and diecast by 100-ton pressure. The white color outdoor coating helps to resist extreme weather conditions.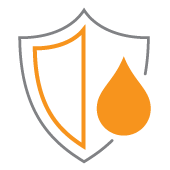 Durable enclosure with waterproof protection for demanding environments. Seals and gaskets protect against water and dust.
Made from anti-corrosion aluminum material with outdoor coating. Passed percolation test & salt spray test.
US & CN PATENTED ENCLOSURE DESIGN
Global Outdoor Waterproof Routers
CAT1 Outdoor IoT Gateway
Outdoor wifi router with LTE CAT1 mobile modem.
Introduction to 4G Router Category
Contact us for professional mobile reception plans and WiFi coverage solutions.