5G Outdoor CPE Router with SIM Slot
5G outdoor CPE router has a 5G-NR modem and dual SIM slots inside. You can insert a SIM card and get fast-speed broadband internet for homes, shops, industrial sites, rural areas, and outdoor events.
With high-gain omni antennas, the 5G CPE receives the best outdoor 5G mobile signals and provides large-scale wireless internet coverage. You can use it in rugged applications and challenging environments.
5G Outdoor CPE Router
Designed for Outdoor 5G WiFi Internet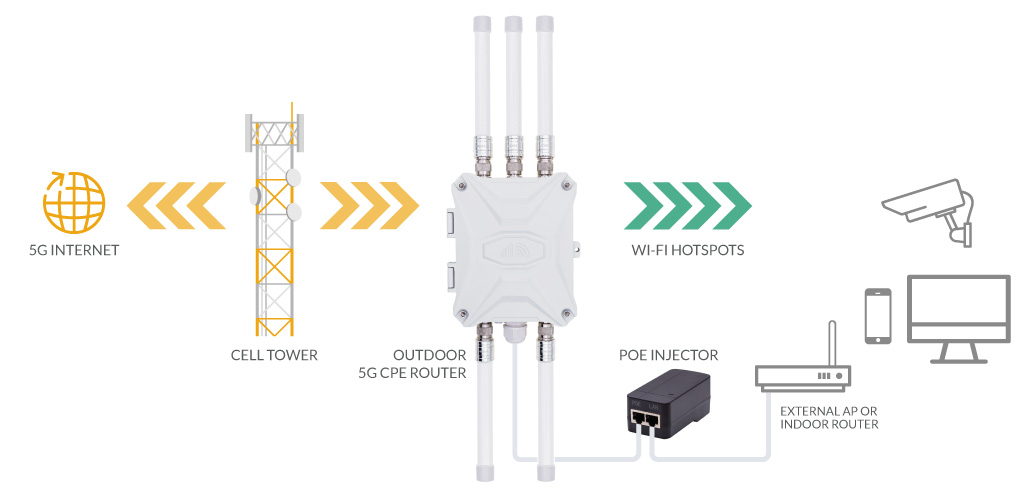 Global LTE 5G Mobile Modem
3GPP Release-15 NSA/SA 5G modem
Global Sub-6 GHz 5G bands max 2.5Gbps
Dual SIM slots and 3G 4G-LTE fallback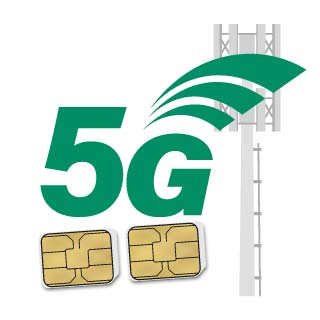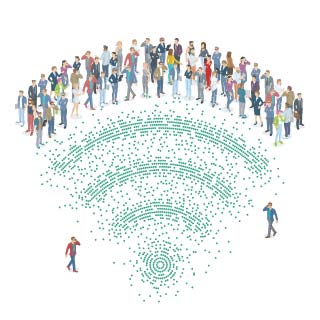 Outside 5G WiFi Gateway
Standalone MIMO Hotspots 2.4G & 5.8G
Boosted WiFi covers 100-300 meters
Supports 120 users, guest WiFi, and WiFi relay
IP67 Waterproof Protection
Patented industrial IP67 robust enclosure
For rugged deployments & extreme weather
Integrated outdoor surge protection
PoE and DC Power Sources
IEEE 802.3at 1Gbps PoE injector
Support PoE switch and extender
DC socket for wide 9~48 Volt power
What is a 5G CPE Router?
5G outdoor CPE router delivers fast internet speeds by utilizing the latest 5G technology to provide high-speed broadband connectivity. It can provide 5G internet on WiFi and Ethernet to phones, computers, and indoor router networks.
Why Use 5G CPE in Outdoor?
Due to barriers and interference, the indoor 5G signal might be weak and unstable. The outdoor 5G CPE is designed to install outside to directly pick up the best 5G signals on its external antennas. It is a standalone wireless router with LAN Ethernet and dual WiFi hotspots to provide 5G internet for outdoor events, outside cameras, IoT sensors, etc.
5G outdoor CPE Benefits
The outdoor 5G CPE router supports NSA/SA operation with a rated max 2.5Gbps download speed over Sub-6 GHz 5G-NR networks. It can support 3G and 4G fallback while a 5G signal is unavailable. It supports Nano SIM cards on both SIM slots. You can choose the mobile carrier and data package flexibly.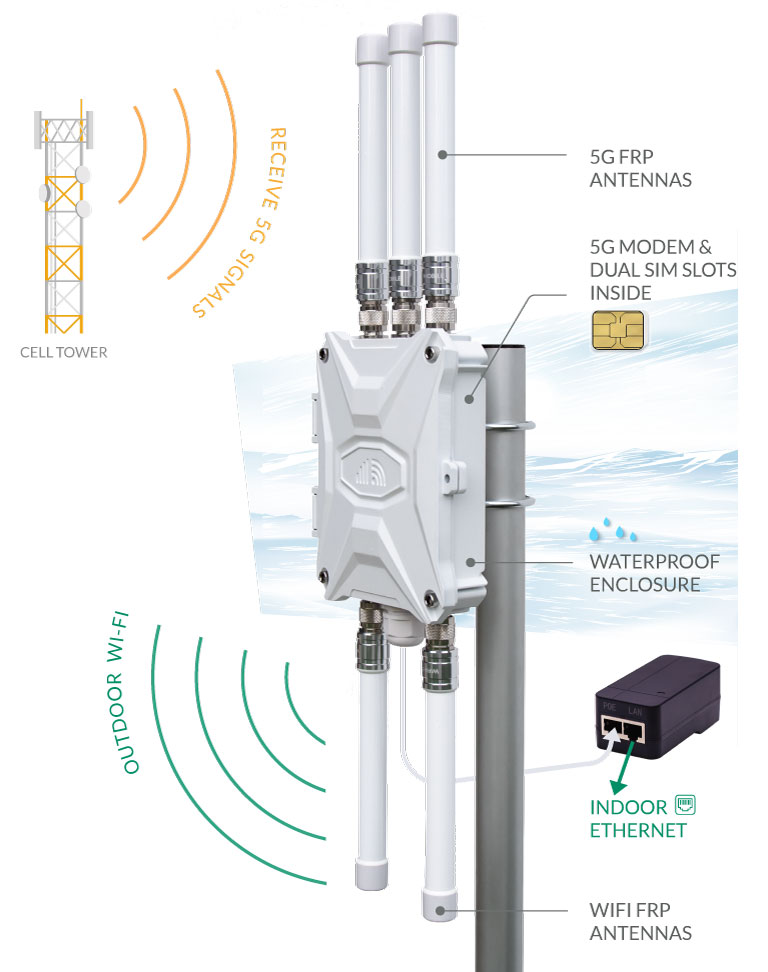 5G Outdoor CPE Router Applications
5G Rural Internet
Fast 5G internet for home & office
High-speed broadband to business
Rural connectivity in remote areas
Industrial Gateway
Enables industry automation and control
For vehicle communication & coordination
Links high-bandwidth cameras and sensors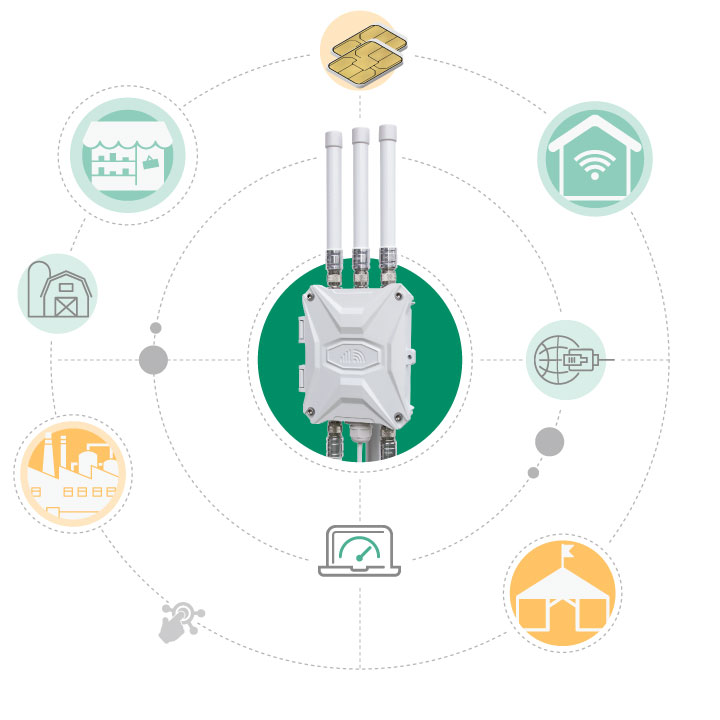 5G-Based WiFi AP
Large-scale broadband wireless access
5G Backup Connectivity
Redundancy for wired internet connections
Temporary & Outdoor Events
Short-term internet for live concerts etc
Deployable network for emergencies
Waterproof 5G CPE & Firmware
The 5G outdoor CPE router has a patented waterproof enclosure with a white weather-proof coating for work in demanding environments.

IP67 Waterproof
Anti dust and water immersion

Outdoor Lighting Protection
Common 6KV – Differential 1.5KV

Against Extreme Weather
Temperature -40°C ~ +80°C Celsius
Powered by open-source firmware, the 5G outdoor CPE firmware is plug-and-play, easy to use, root authority granted, and with advanced tools.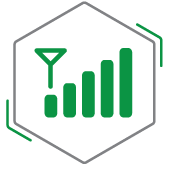 Integrated 5G modem drivers and multiple cellular protocols.
Supports dual SIM cards, band lock, and 4G/5G IP passthrough.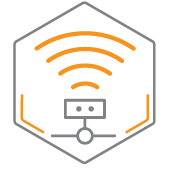 Supports WiFi relay, guest WiFi, WiFi schedule, custom firewall, multiple-WAN, and OpenVPN IPSec WireGuard VPN tunnels.
Please contact us for the online demo.
5G CPE Power Over Ethernet
Complying with 802.3af/at PoE standard, the outdoor 5G CPE router uses a LAN cable to transmit 48-Volt DC power and 1-Gbps Ethernet data. It supports a max 50-meter LAN cable. You can power it with a PoE switch and use a PoE extender for a longer LAN cable length.
The DC socket supports 9~48 Volt DC power, including typical 12 Volt DC power from an AC-DC power adapter and 12 Volt battery pack.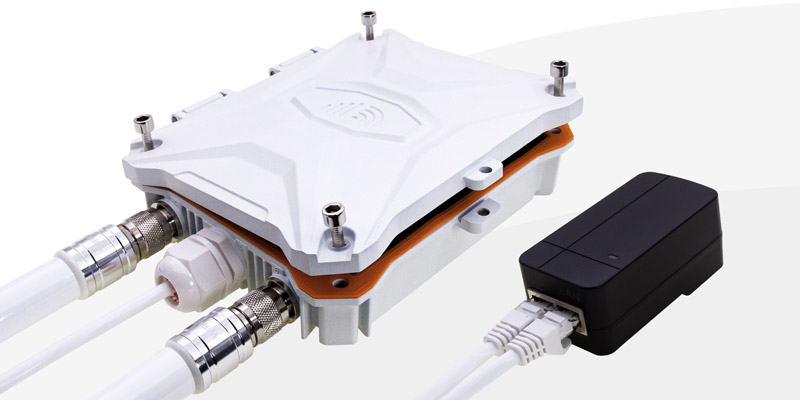 What Will You Get In The Package
The package includes the below contents along with a 15-day money-back warranty and one year quality guarantee.
You will also receive our zealous customer service and technical support.
Package Contents
1 x 5G Outdoor CPE Router
3 x Omni FRP 5G Antenna
2 x Omni FRP WiFi Antenna
1 x 10-meter LAN Cable
1 x 1Gbps PoE Injector
1 x Mounting Set & Tool