LPDA Outdoor 4G Cellular Log-periodic Antenna
The outdoor directional 4G LTE LPDA antenna is optimized to work with a 4G Router. It improves 3G/4G mobile signal reception on the 4G router by two times. The directional LPDA antenna is ideal for weak signal areas.
Wideband 3G 4G cellular frequency 698~2700MHz
Supports all 2G/3G/4G mobile frequency bands
High-gain 9.5dBi and low V.S.W.R <1.5
A directional antenna with a narrow beamwidth
Got a weak 3G/4G signals? Upgrade the cellular antenna on your 4G router!
Improve the cellular signal reception for the 4G Router. The directional log-periodic antenna receives 3G/4G signals from a defined direction with a narrow angle. The optimized 4G router antenna supports a range of 698MHz to 2700MHz. It can work on universal range 2G/3G/4G mobile networks.
The default cellular antenna on our 4G router is a 5dB FRP antenna which receives signals from all directions. The external antennas on the indoor 4G router and home WiFi routers are 3~5dB only. The cellular log-periodic antenna has a higher gain, up to 9.5 dB. It can help you get two times stronger signals on the 4G routers.
The 4G router log-periodic antenna comes with the mounting kit to install outdoors on a diameter 20~40mm pole. It would help if you pointed the antenna toward the nearest mobile phone mast/tower or the strongest cellular signal source.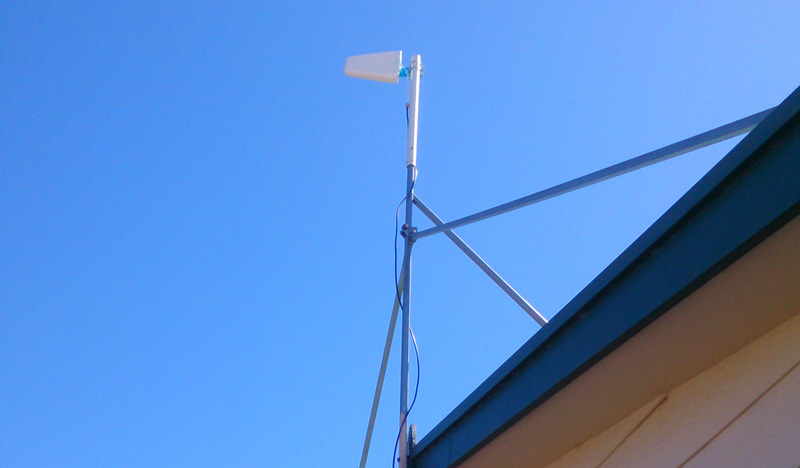 LPDA Log-Periodic Antenna Specifications
| | |
| --- | --- |
| Frequency | 698~960/1700~2700MHz |
| Polarization | Vertical |
| Gain | 9.5dBi |
| V.S.W.R | ≤ 1.5 |
| Max Power | 100 Watt |
| Impedance | 50 ohm |
| Lighting Protection | Direct Ground |
| Connector | N-Male |
| Radome Material | PVC |
| Radome Color | White |
| Radiating Element | Copper (CU) |
| Dimension | 390x210x65mm |
| Weight | 100 gram |
| Temperature | -40~70 degree |
Horizontal Working Pattern
Vertical Working Pattern
Coaxial Cable
The Log-periodic antenna comes with a 60cm cable. You can upgrade the cable to a 5-meter cable. The cable connection between the log-periodic antenna and the 4G router is like the right-side image.
Connectors
The default connector on the log-periodic antenna is N-male type. We can provide the connector adapter if you want to connect the antenna to other connectors, like SMA.
You may also like…
| | |
| --- | --- |
| SKU: EZR34-A012 |   |
| CAT12 LTE modem 1x SIM slot | |
| Max RX 600Mbps TX 150Mbps | |
| 1200M WiFi 150~300 yards | |
| 52V PoE with 1Gbps Ethernet | |
| IP67 waterproof enclosure | |
US$

439