Solar-Battery Powered Outdoor WiFi 4G Router
The outdoor WiFi 4G router has a 12Volt solar-battery pack and supports 2-day working. It has a 4G mobile modem to connect mobile networks and provides WiFi & LAN. The battery management system allows recharging battery from the solar panel, DC power, and PoE adapter.
Awesome new model in the making. Check back later.
Solar-Battery Outdoor 4G Router
Built-in 5,200mAh Li-ion battery and 12Volt solar power controller
How Does Solar Battery 4G Router Works?
Designed for use in remote areas without landline internet and an electric power source is not available.
Worldwide Mobile Modems
Insert a phone SIM card in the 4G router and connect multiple devices to the Internet via wireless Wi-Fi or LAN Ethernet.
Flexible Power Sources
Built-in battery management system. It allows recharging the internal battery pack by different power sources, including 12Volt solar panel, 9~24Volt DC power, and 48Volt PoE adapter.
Worldwide Mobile Modems
Various of MIMO 3G/4G modems
Download speed up to 150~300Mbps
High-gain FRP 4G omni antennas
2.4G Wi-Fi Booster Inside
2T2R MIMO Wi-Fi – speed up to 300Mbps
Wi-Fi booster inside, cover 150~300 yards
Support up to 57 concurrent Wi-Fi users
Battery Management System
Built-in 5,200mAh battery pack *extendable
9~24Volt DC power – including solar power
Comes with 48Volt standard PoE adapter
IP67 Waterproof Protection
Designed for rugged deployments
IP67 hardened aluminum alloy case
Integrated surge protection
Flexible Power Sources
The solar-battery powered outdoor 4G router has a built-in (BMS) battery management system.
12Volt Battery Pack
The outdoor 4G router has 12volt 5,200mAh loaded 18650 battery packs, which support the 4G router works 2-day continuously. You can install extra 18650 batteries to extend the battery life.
Recharge Battery Pack
You can recharge the internal battery pack with various power sources, including default 48Volt PoE adapter (included), 9~24Volt wide-range DC power source (exclude), and 12~18Volt solar power panel (exclude).
PoE Power & LAN Ethernet
Supports 802.3af/at PoE standards, the PoE adapter only needs one LAN cable to transmit both power and data. You can use as long as 100 meters LAN cable.
Embrace Green Powers
Built-in battery power management system, the solar-battery outdoor 4G router can directly connect to 12Volt power sources, such as external battery pack, solar panels and wind turbines.
Alternative Solar Panel *Exclude
You can use any 12volt~18volt solar panel; the suggested output power from the solar panel is ≥ 40watt. If there are not so many sunny days, recommend using monocrystalline solar cells.
18V 40W Solar Panel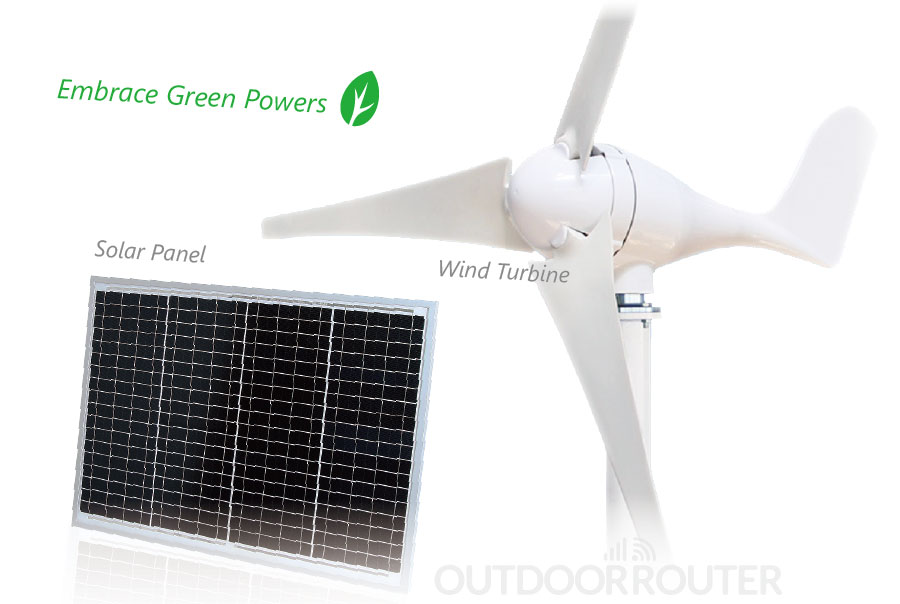 Worldwide Mobile Modems
i. Various 3G/4G modems are available. Choose the corresponding modem as per your location.
ii. Cat.4 modem has max 150Mbps download speed, and Cat.6 modem has a faster speed max 300Mbps.
MIMO WI-FI 150~300 Yards
Driven by a 27dBm booster, the Wi-Fi signal covers up to 150~300 yards in the open area. The 2T2R MIMO Wi-Fi hotspot has 300Mbps fast speed. You can connect up to 57 concurrent users.
2x Wi-Fi Omni FRP antenna included. You can also upgrade to directionalWi-Fi antennas.
LAN Ethernet & WAN
The LAN Ethernet connection is available from the PoE base socket. You can also change the LAN function to WAN.
IP67 Waterproof Enclosure
The solar-battery powered outdoor 4G router is ideal for deploying in rural areas such as the park, coast, camping site, construction site, and outdoor events of the golf course, outdoor concert, flea market, and business summit.
The IP67 hardened industrial-grade case enclosure could withstand extreme weather conditions and rugged deployments. The outstanding metallic case could protect the 4G router from dust.
What Will You Get in the Package
Package Contents
1 x Outdoor 4G router
        6x 18650 battery inside
4 x Omni FRP 4G/WiFi antenna
1 x 10-Meter LAN cable
1 x 48V PoE adapter
1 x Mounting set and tool
SKU:
America -Y4AF
America -S6A
EMEA -Y4E
EMEA -Y6E
LTE Category:
Cat.4
Cat.6 LTE-A
Cat.4
Cat.6 LTE-A
4G FDD Bands:
B2/B4/B5/B12/B13/ B14/B66/B71
Download max 150Mbps / Upload max 50Mbps
B1/2/3/4/5/7/8/12/13/20/25/26/29/30
Download max 300Mbps / Upload max 50Mbps
B1/B3/B5/B7/B8/B20
Download max 150Mbps
Upload max 50Mbps

B1/B3/B5/B7/B8/B20/B28/B32Rx
Download max 300Mbps
Upload max 50Mbps

4G TDD Bands:
N/A
Band 41 (2600MHz)
Download max 222Mbps / Upload max 26Mbps
B38/B40/B41
Download max 130Mbps
Upload max 30Mbps
B38/B40/B41
Download max 260Mbps
Upload max 28Mbps
3G Bands:
B2/B4/B5
DC-HSDPA: DL Max 42Mbps
HSUPA: UL Max 5.76Mbps
WCDMA: DL 384Kbps / UL 384Kbps
HSPA/UMTS: Band 1/2/3/4/5/8
Download Cat 24: 42Mbps
Upload Cat 6: 5.76Mbps
B1/B5/B8
DC-HSDPA: DL Max 42Mbps
HSUPA: UL Max 5.76Mbps
B1/B/3B5/B8
DC-HSDPA: DL Max 42Mbps
HSUPA: UL Max 5.76Mbps
Working Area:
North America
North America (USA and Canada)
Europe, Africa, Middle East, Korea, Thailand, India

EMEA: Europe, the Middle East and Africa
APAC: Asia-Pacific (Excluding Japan and CMCC)
and Brazil

Certification:
GCF / FCC / IC / PTCRB
AT&T / T-Mobile / Telus / Bell
FCC / IC / CE / NCC / Anatel
RCM/CE/Deutsche Telekom/ICASA/ FAC/GCF
CE / RCM / GCF / Deutsche
CPU:
Qualcomm Atheros QC9531
Frequency:
650MHz
Memory:
DDR2 RAM 128MB
Flash:
SPI FLASH 16MB
SIM card slot:
Double Nano-SIM Cards (12.3×8.8mm)
LAN Port:
10/100Mbps on PoE adapter
Indicator:
System / Wi-Fi / SIM1 / SIM2
Temperature:
Working: -40 to +80°C
Storage: -50 to +90°C
Humidity:
10%~90% RH
Measurement:
230x320x92mm / 2500gram
Wi-Fi standards:
IEEE 802.11 b/g/n & IEEE 802.3u
Transmission rate:
300Mbps by 2T2R MIMO Wi-Fi
Frequency:
2412~2484 MHz
Channel:
1~13
Bandwidth:
20/40 MHz or Auto
Output power:
802.11n: 23±2dBm for OFDM mode
802.11g: 25±2dBm for OFDM mode
802.11b: 27±2dBm for CCK mode
Wi-Fi mode:
11b / 11g / 11n only
11b/g mixed or 11b/g/n mixed
Concurrent user:
57 users
4G Omni Antenna:
Frequency: 698~960 / 1710~2700MHz
Gain: 3~4dBi / V.S.W.R.: ≤ 2.5
Wi-Fi Antenna:
Frequency: 2400~2500MHz
Gain: 5dBi / V.S.W.R.: ≤ 2.5
Measurement:
Φ21×178mm
Connector:
N-male
Polarization:
Vertical
Impedance:
50 Ω
Max Input power:
10 Watt
PoE input:
PoE: 48 Volt
PoE standard:
802.3af/at
Cable length:
Support 100 meters
Wiring:
Ethernet 1,2,3,6 / DC+ 4,5 / DC- 7,8
DC input:
9~24 Volt
from battery pack, solar panel, etc
Router firmware:
OpenEzen System
Log in:
IP address: 192.168.50.1
Password: root
Computer:
Windows XP Vista 7 8/8.1 MAC OS OS X10.7+
Bootloader
EzBoot (192.168.1.1)
EZR53 Datasheet
Download PDF datasheet of the EZR53 solar battery-powered outdoor 4G router
You may also like…
Rated 5.00 out of 5
| | |
| --- | --- |
| SKU: EZT419 | |
| Wideband frequency 698~2700MHz | |
| High-gain 9.5dBi - VSWR <1.5 | |
| Directional antenna narrow angle | |
US$

50