UK Broadband 4G LTE Modem
Mobile broadband LTE modem integrated with Ethernet port and 2pcs external omnidirectional antennas. Provide fast-speed WiFi and Ethernet on mobile networks.
Industrial-grade 3G/4G broadband modem
Powerful Wi-Fi booster covers 100~200 meters in radius
Transmission speed up to 150Mbps, serve 10 Wi-Fi users
External removable omnidirectional antennas SMA connector
DC 9~24Volt wide-range power supply input voltage
Out of stock
The broadband mobile UK 4G Modem uses a prepaid SIM card to access the 4G LTE mobile network. It can support all of the UK mobile operators, including EE, Three, O2 and Vodafone. The 4G LTE modem brings you the fast speed internet base on cellular networks on various occasions including home, office, rural area, vehicle, RV, boat and so on.
The UK 4G Modem provides high-speed 150Mbps WiFi and Ethernet connections. APN, VPN, and firewall functions are available.
Integrated 30dBm (1Watt) Wi-Fi booster, the broadband 4G LTE modem is capable to serve 10 users in 100~200 meters radius. You can reduce the WiFi output power to 20/27dBm or even turn off the WiFi on the modem admin panel.
The UK 4G modem has built-in an Ethernet port which allows you to set up a local area network (LAN) to connect more devices to the internet. The Ethernet port also allows to input internet signal to the 4G modem.
Broadband Cellular Modem
Mobile transmission rate up to 150mbps
Support EE, O2, Three, Vodafone networks
Support all of UK 2G/3G/4G frequencies
∙ 4G FDD-LTE: B1/B3/B7/B8/B20
∙ 3G WCDMA: 2100/900MHz
∙ 2G GSM/GPRS/EDGE 900/1800MHz
Wide-range Power
DC9~24Volt Input Power
Default Power Supply AC100~240V
3-Meter Cat6 LAN Cable
Powerful Wi-Fi Booster
Wi-Fi transmission rate up to 150Mbps
Comply Wi-Fi standards 802.11b/g/n
Adjustable Wi-Fi output power 20/27/30dBm
Adjustable connections from 1~10 users
13 Wi-Fi channels
Encryption WPA/WPA2-PSK/WPA2 AES-PSK
External Antennas
Omnidirectional Whip Antennas
Removable SMA Connector
3dBi Gain – 1.8 V.S.W.R
Package Contents - What Will You Get
Package Contents
1 x UK 4G Modem
2 x Omni Antenna
1 x 3-Meter LAN Cable
1 x 12V-2A Power Supply
1 x SIM Card Adapter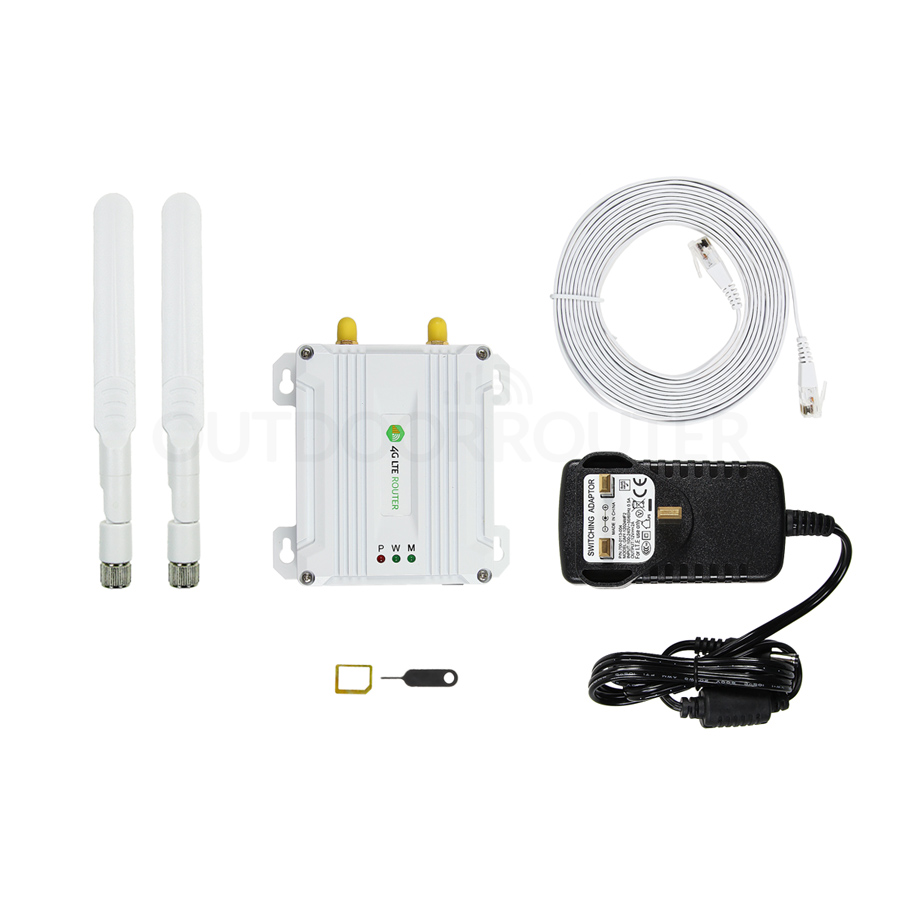 Firstly you need to have a prepaid Micro USIM card and insert into the SIM card slot. * You can also connect the 4G router to your existing router via WiFi or LAN cable. Install or put the UK 4G Modem at the location can receive more than 3 bars of 3G/4G mobile signals. Then screw on antennas and connect to power supply.
After connected to the electrical outlet, a Wi-Fi hotspot will be created within 20 seconds. Join the Wi-Fi network with the default password provided in the users manual.
Open a web browser and type http://192.168.100.1 in the address bar, and use default admin password to log in. You will see a control panel which allows you to control a lot of settings including internet connection, Wi-Fi hotspot, VPN, data management, etc.
Download User's Manual
Upgrade 4G & Wi-Fi Antennas
The upgradable 4G & Wi-Fi Antenna kit comes with
1 x 4G paddle antenna
1 x Wi-Fi paddle antenna
1 x Magnetic mount with 3-meter coaxial cable.
Weak 4G Mobile Signals at Home?
If you have a weak 4G signal reception at home, please upgrade the default 3dBi 4G quant antenna to higher-gain 4dBi paddle antenna. The upgrade kit comes with a magnetic mount with 3-meter coaxial cable. With the magnetic mount, you can extend the 4G antenna to another location with better 4G signal receptions, such as window, balcony, attic, etc.
Enhance Wi-Fi Coverage?
The upgraded 5dBi Wi-Fi paddle antenna using ceramic PCB inside. Featured by 5dBi higher-gain and <1.8 V.S.W.R, the upgraded Wi-Fi paddle antenna provides stronger Wi-Fi signals and larger Wi-Fi coverage.