AU CAT6 LTE Router External Yagi Antennas
A set of Australian standard outdoor 4G router with CAT6 mobile modem and directional 2x LPDA yagi antennas, receiving the best outdoor signals and fast internet in rural areas.
Dual-SIM and CAT6 LTE modem for Australian mobile carriers.
2x LPDA external yagi antennas are included in the kit.
2.4GHz MIMO WiFi hotspot covers 150~300 yards in an open area.
Powered by 48V-PoE or 12VDC. Receiving Ethernet on PoE injector.
Australia CAT6 4G Router External Antennas
A combination of EZR33L 4G router and 2xLPDA yagi antenna array for rural areas
Australian 4G Router CAT6 Modem
Built-in CAT6 mobile LTE-Advanced modem, the Australian outdoor 4G router (original SKU# EZR33L-O6) connects to widely distributed 4G-LTE mobile networks and gets rated max 300Mbps download speed.
It supports all 3G/4G LTE mobile networks in Australia and New Zealand. Its unlocked to use any workable SIM cards you have.
Rugged 4G SIM Router for Demanding Applications
Remote & Rural Area
Receive stronger outdoor signals. Get rid of the landline. Enjoy the fast-speed mobile internet.
Outdoor Events
Use a SIM card to set up a temporary internet for outdoor events, campsite, caravan, boat, etc.
Harsh Environments
Provides rugged internet for industrial applications, water treatment, and construction sites.
Directional Outdoor 4G Antenna Array
Includes 2x upgraded LPDA log-periodic antennas. Install both LPDA antennas with a polarization of 90 degrees and point towards mobile towers to receive two times stronger signals on the 4G routers.
Long-range Outdoor WiFi Coverage
2.4GHz standalone WiFi hotspot covers 150~300 yards in open space, connecting up to 57 devices such as cameras, doorbells, etc. It also supports guest WiFi and WiFi relay.
PoE Power & LAN Ethernet
Comply with 802.3af/at PoE standard, and the outdoor 4G router uses a LAN cable to transmit both DC power and Ethernet data and supports a standard DC power adapter.
The Latest Innovative Waterproof Enclosure
Diecast from anti-corrosion ADC12 aluminum by 100-ton pressure. The outdoor 4G modem router has the unique & modular designed enclosure with a weather-proof coating.

The durable enclosure provides waterproof protection in demanding environments.
A set of o-rings seals and gaskets protects the router against water and dust.

The outdoor enclosure has effective heatsink fins with rain diverters. The 4G modem router works in the temperature range of -40° ~ +80° celsius.

Integrate lighting protection of common 6KV & differential 1.5KV.
The breather valve prevents rupturing or imploding.
Flexible Mounting System
Easily install the router on a pole or wall surface with the robust bracket system.
It offers flexible solutions to install in vertical or horizontal directions.
Powerful & Open-sourced Cellular Router Firmware
Dedicated Cellular Router Firmware
Outdoor router operates as a plug-and-plug Linux router for internet freedom. It's easy to use and with a bundle of advanced tools.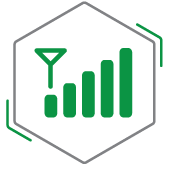 The SIM-card router has integrated modem drivers, mobile protocols, and APN parameters. It also supports mmcli and AT command sets.
The keepalive design brings stable mobile internet connections. Automatically redial modem, reboot router, and switch SIM cards.
Safe & Open-sourced Firmware
Access and control the router with a web browser. It provides full authority to access SSH FTP Telnet, software center, and file system.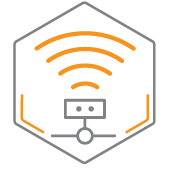 It has built QoS, firewall, DNS filter, and multiple-WAN. You can easily control the inbound and outbound traffics.
Supports OpenVPN and WireGuard. You can remotely access it via the Traversal-Cloud. TR069 is available on demand.
What Will You Get in the Package
The package includes the below contents along with a 15-day money-back warranty and 1-year quality guarantee.
You will also receive our zealous customer services and technical supports.

Package Contents
1 x Australia CAT6 Outdoor 4G Router
2 x 4G LPDA yagi Antenna
4 x Omni Antenna (N-Male)
1 x 10-meter Outdoor LAN Cable
1 x 48V PoE Injector
1 x T-Shape Wrench
1 x Router Mounting Kit
Unboxing the EZR33L Router
LPDA antennas are not shown in the video.
Cat6 LTE-A Mobile Modem - E6 U6 & O6
LTE Category:
CAT.6 (3GPP E-UTRA Release 11)
4G FDD Bands:
B1/B3/B5/B7/B8/B20/B28/B32Rx
Download max 300Mbps / Upload max 50Mbps
4G TDD Bands:
B38/B40/B41
Download max 260Mbps / Upload max 28Mbps
2xCA
Carrier Aggregation:
B1+B1/B5/B8/B20/B28
B3+B3/B5/B7/B8/B20/B28
B7+B5/B7/B8/B20/B28
B20+B32Rx | B38+B38
B40+B40 | B41+B41
3G Bands:
B1/B/3B5/B8
DC-HSDPA: DL Max 42Mbps
HSUPA: UL Max 5.76Mbps
WCDMA: DL 384Kbps / UL 384Kbps
Bandwidth:
1.4/3/5/10/15/20/40(2xCA)MHz
Support Antenna:
DL MIMO, supports Rx-diversity
Temperature:
Working: -40°C ~ +80°C
Working Area:
EMEA: Europe, the Middle East and Africa
APAC: Asia-Pacific (Excluding Japan and CMCC)
and Brazil
Certification:
CE / RCM / GCF / Deutsche
EMEA & APAC standard Cat6 mobile modem
It supports mobile networks in the United Kingdom, European countries, Australia, New Zealand, Africa, India, Brazil, South East Asia, and the Middle East countries.
2x LPDA Directional Antenna
| | |
| --- | --- |
| Frequency: | 698~960/1700~2700MHz |
| Gain: | 9.5dBi |
| V.S.W.R.: | ≤ 1.5 |
| Max Power: | 100 Watt |
| Impedance: | 50 ohm |
| Surge Protection: | Direct Ground |
| Connector: | N-Male |
| Radiating Element: | Copper (CU) |
| Working Area: | -40 to +70°C |
| Measurement: | 390x210x65mm / 100gram |
CPU:
Qualcomm Atheros QCA9531
Frequency:
650MHz
Memory:
DDR2 RAM 128MB
Flash:
SPI FLASH 16MB
SIM card slot:
Double Nano-SIM Cards (12.3×8.8mm)
WAN/LAN port:
10/100Mbps on PoE adapter
Indicator:
System / Wi-Fi / SIM1 / SIM2
Temperature:
Working: -40 to +80°C
Storage: -50 to +90°C
Surge Protection:
Common-mode 6 kV
Differential mode 1.5 kV
Humidity:
10%~90% RH
Measurement:
Router 180.7x160.8x53mm
Package:
307x249x130mm / 2405gram
2 x 4G LTE antenna:
Frequency: 698~960 / 1710~2700MHz
Gain: 3~4dBi / V.S.W.R.: ≤ 2.0
2 x Wi-Fi antenna:
Frequency: 2400~2500MHz
Gain: 5dBi / V.S.W.R.: ≤ 2.0
Measurement:
Φ22×180mm
Connector:
N Male
Polarization:
Vertical
Impedance:
50 Ω
Max Input power:
10 Watt
Wi-Fi standards:
IEEE 802.11 a/b/g/n
IEEE 802.3 and IEEE 802.3u
MIMO Wi-Fi:
2T2R MIMO (multiple-input multiple-output)
Transmission rate:
300Mbps
Frequency:
2.4GHz - 2412~2484 MHz
Channel:
1~13
Bandwidth:
20/40 MHz or Auto
Output power:
802.11b: 27±2dBm
802.11g: 25±2dBm
802.11n: 23±2dBm
Wi-Fi mode:
11b / 11g / 11n only
11b/g mixed or 11b/g/n mixed
Concurrent user:
57 users
PoE Injector:
Input: 110~240VAC 50/60Hz
Output: 48Volt 0.5Amps
LAN Cable:

10-meter outdoor grade LAN cable included.
Max 50-meter.

PoE Wiring:

Ethernet 1, 2, 3, 6
DC+ 4, 5 | DC- 7, 8

DC Socket:

Wide range DC 9~48Volt
Max current 1.5Amps
4G Router Firmware
Note: Below function chart is base on firmware version EV3124.
Mobile Protocol:
Mobile Data and 4G-PPP
Command Sets:
MMCLI & AT commands
Mobile Status:
SIM card, Connection status, mobile operator
Signal strength (Cell ID, RSRQ, RSSI, RSRP & SNR)
IMEI, IP address, and TX/RX data flow
Band Management:
Network lock between 2G 3G and 4G
3G and LTE band lock on web interface
APN:
Auto APN included
Custom APN parameters available
Mobile Roaming:
On/off as you set
SIM Switching:
Primary SIM1 by default
Choose SIM card or set to auto switch SIM cards
Accessibility:
Web GUI interface, SSH terminal, Telnet, and FTP/SFTP
LAN/WAN Protocol:
Static, DHCP, PPPoE, IPv4/6, and WireGuard
Wi-Fi Network:
SSID, encryption, MAC filter, guest Wi-Fi, and Wi-Fi relay
Traffic Control:
QoS, SQM, and load balancing
Firewall:
Open new port, port forwarding, and custom rules
Diagnostics:
Ping, Traceroute, Nslookup
VPN Tunnel:
OpenVPN (v2.5.3) and WireGuard VPN
Remote Control:
Free traversal cloud
* TR069 available on demand
You may also like…
| | |
| --- | --- |
| SKU: EZT4MP | |
| MIMO panel antenna 698~2700MHz | |
| High-gain 6~8dBi - VSWR ≤ 1.5 | |
| Wide beamwidth - H85±10° V65±10° | |
US$

55 –

US$

73