Outdoor 5G Modem Australia Mobile SIM Router
The outdoor 5G router has a 5G modem and dual SIM card slots to provides 5G broadband internet for homes, shops, industrial sites, rural areas, and outdoor events. It supports all the 4G 5G mobile networks in Australia with auto LTE Cat.19 fallback.
The MIMO external antennas receive the best 4G 5G mobile signals outside and broadcast dual-band WiFi hotspots for outdoor devices. The IP67 waterproof router box is suited to rugged applications and challenging environments.
Outdoor 5G Modem Router
Dual SIM slots and external antennas
Outside WiFi and indoor LAN Ethernet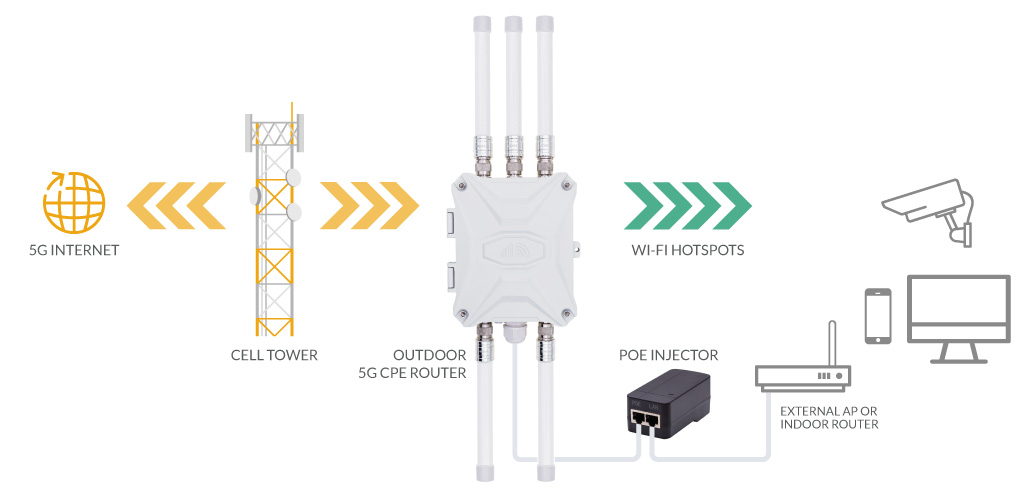 5G SIM Card Modem
5G modem with dual Nano SIM card slots
Broadband 5G internet – Max 3,400 Mbps
Supports Australia 4G 5G mobile carriers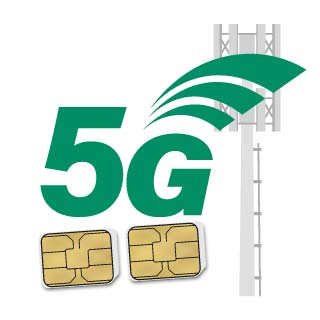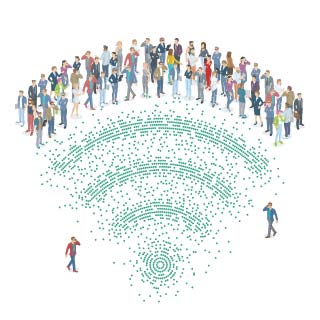 External 5G WiFi Gateway
External MIMO 5G and WiFi antennas
Standalone dual-band WiFi 2.4G & 5.8G
Outdoor 5G WiFi covers 100-300 meters
IP67 Waterproof Router
Industrial 5G router with surge protection
For extreme weather & rugged deployments
PoE Ethernet and DC Power
1Gbps LAN Ethernet on PoE injector
Power over Ethernet cable or 12V DC
What is a Outdoor 5G Modem Router?
The outdoor 5G modem router connects the SIM card to 4G/5G mobile networks and delivers broadband internet on WiFi & Ethernet to phones, computers, cameras, and indoor routers.
Why Use 5G Router in Outdoor?
Due to barriers and interference, the indoor mobile signal might be weak and unstable. The outdoor 5G router install outside to pick up the best available 4G/5G mobile signals on its high-gain external antennas. It is a standalone 5G modem router with dual-band 2.4G and 5.8G WiFi hotspots to provide broadband internet for outdoor events, outside cameras, IoT sensors, construction sites, etc.
Outdoor 5G Modem Router Benefits
The outdoor 5G router supports Australian 4G 5G mobile networks and roams in EMEA & APAC countries. The 5G modem is unlocked and capable of using SIM cards from all the mobile carriers in Australia; you can choose the mobile carrier and data package flexibly.
It operates over Sub-6 5G networks with a rated max 3.4Gbps download speed. 3G and 4G Cat.19 fallback is enabled. You can use two Nano SIM cards on the router.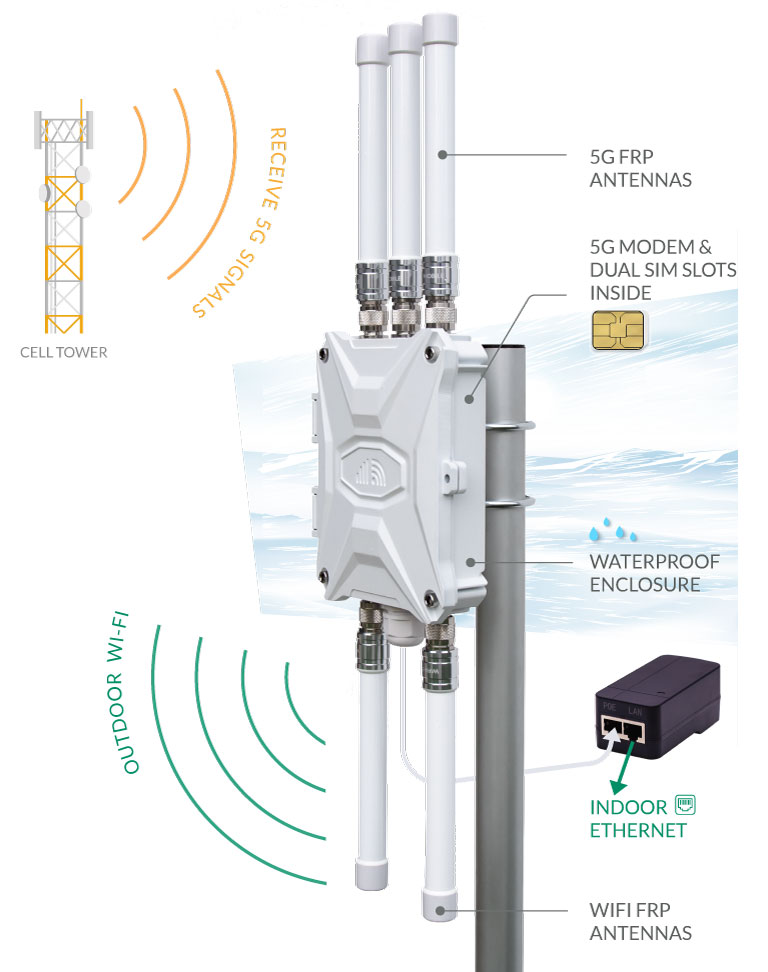 Outdoor 5G Router Applications
Mobile 5G Internet
Fast broadband 4G/5G home internet
Failover SIM card internet for officeworks
Rural Mobile WiFi internet for remote areas
Flexible 5G SIM Router
Mobile internet on road and on boats
4G/5G WiFi for motorhome and camp sites
Enables industry automation and control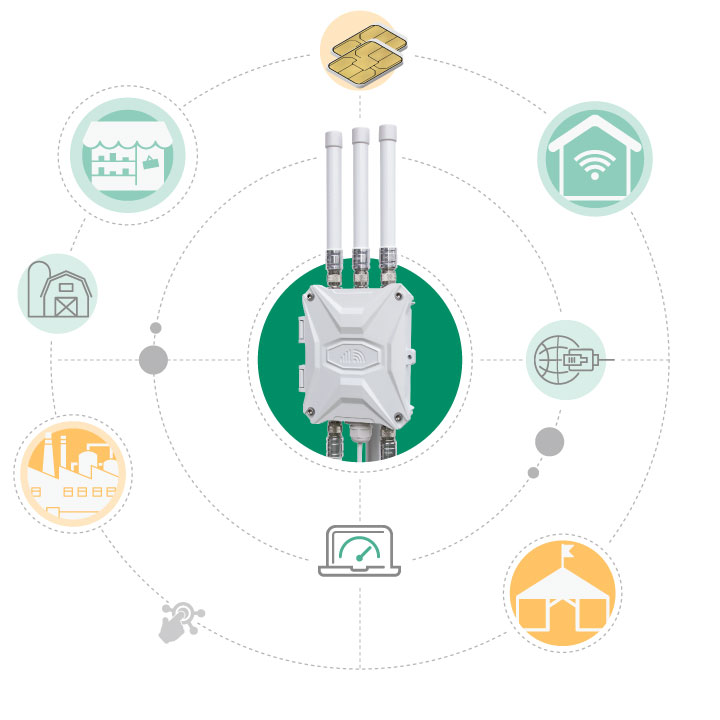 Outdoor WiFi Hotspots
Outdoor WiFi coverage 100-300 meter
4G/5G Backup Internet
Redundancy for landline DSL fiber internet
Temporary & Outdoor Events
Short-term internet for live concerts etc
Deployable network for emergencies
IP67 Waterproof Box & 5G Firmware
The Outdoor 5G Router has an IP67-rated waterproof box for work in extreme weather and demanding environments in the long term.

IP67 Waterproof Box
Anti dust and water immersion

Outdoor Lighting Protection
Common 6KV – Differential 1.5KV

Against Extreme Weather
Temperature -40°C ~ +80°C Celsius
Powered by open-source firmware, the 5G modem router firmware is plug-and-play, easy to use, root authority granted, and with advanced tools.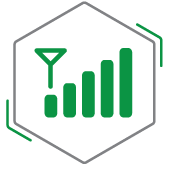 Integrated 5G modem drivers and multiple mobile protocols.
Supports dual SIM cards, 4G/5G band lock, and mobile IP bridge.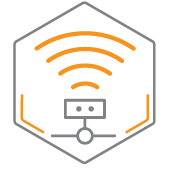 Supports WiFi relay, guest WiFi, WiFi schedule, custom firewall, multiple-WAN, VPN tunnels, and free cloud access.
Please contact us for the online demo.
Power Sources – PoE & DC Powers
The default power source is an 802.3at standard PoE injector. You can use the included 10-meter LAN cable to power up the router and get 1Gbps LAN Ethernet on the PoE injector. It also accepts power from a PoE switch and PoE extender.
The DC socket supports 9~48 Volt DC power, including typical 12 Volt DC power from a DC power adapter and 12 Volt battery pack.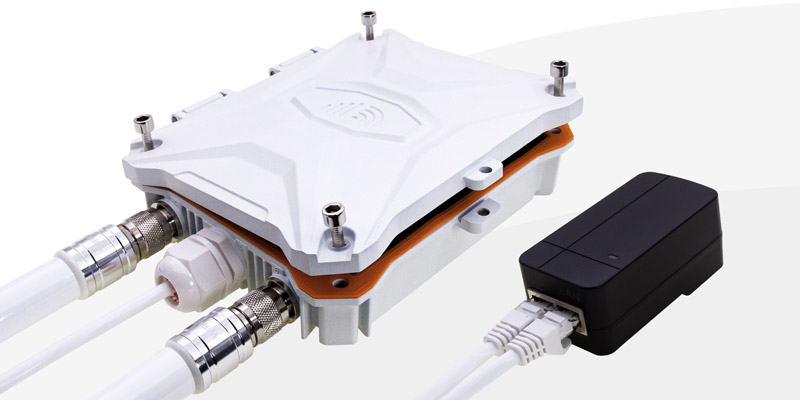 What Will You Get In The Package
The package includes the below contents along with a 15-day money-back warranty and one year quality guarantee.
You will also receive our zealous customer service and technical support.
Package Contents
1 x Outdoor 5G Router
3 x Omni FRP 5G-NR Antenna
2 x Omni FRP WiFi Antenna
1 x 10-meter Cat.6 LAN Cable
1 x PoE Injector with AU Plug
1 x Mounting Set & Tool
Frequently Asked Questions
Services
How long does it take to arrive?
We offer free shipping and safe express delivery from the Sydney warehouse. Lead time is 24 hours in working days. The shipping courier is AUSPost eParcel express, and the transit time is 1~5 days.
The backorder and out-of-stock products will ship from the factory or other warehouses, and the transit time is 4~7 days.
Modem & SIM Card
What kind of SIM card & data plan are suitable?
The outdoor SIM router is unlocked to use any workable data plan, such as a regular phone SIM, data-only plan, or IoT data plan. It supports major Australian mobile carriers, such as Optus Telstra Vodafone, and virtual carriers.
The SIM card slot(s) takes Nano standard SIM card, 0.5" by 0.3" inch (12.3x8.8mm). Please ensure the SIM card is workable and has enough data allowance.
What is the difference between these outdoor routers?
The EZR34(T) series routers offer 1Gbps LAN and 1200Mbps WiFi with CAT12 LTE-Advanced or 5G-NR mobile modem. They can provide fast-speed 4G/5G mobile internet for high-traffic applications such as gaming and video streaming.
The EZR33(L) series routers provide 100Mbps LAN and 300Mbps WiFi with CAT4 or CAT6 mobile LTE modem. These are the economical mobile SIM routers for low-traffic demands and essential mobile internet solutions such as rural internet, IoT applications, etc.
Router SKU
LAN
WiFi
Category
Max Download
EZR34T-D520
1Gbps
1200Mbps
5G-NR NA & NSA
LTE CAT19
3.4 Gbps
EZR34-D012
1Gbps
1200Mbps
LTE CAT12
600 Mbps
EZR33L-O6
100Mbps
300Mbps
LTE CAT6
300 Mbps
EZR33L-O4
100Mbps
300Mbps
LTE CAT4
150 Mbps
Outdoor 5G Router Usages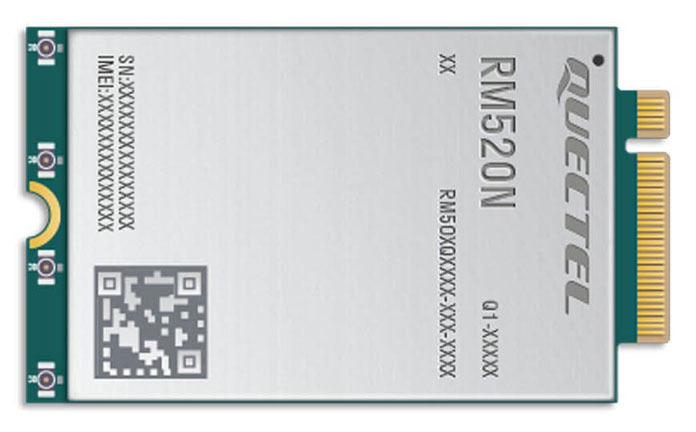 5G-NR Mobile SIM Modem
The RM520N 5G-NR mobile SIM modem is a Qualcomm x62 5G sub-6GHz M.2 module.
Specification
5G NR
4G LTE
Category:

3GPP Release 16 (R16)
NSA/SA operation, Sub-6 GHz

Download CAT19
Upload CAT18
Bands:
5G-NR NSA & SA:
N1 3 5 7 8 20 28 38 40 41 71 75 76 77 78
FDD: B1 3 5 7 8 20 28 32 71
TDD: B38 40 41 42 43
Download Speed:
5G NSA: 3.4 Gbps
5G SA: 2.4 Gbps
1.6 Gbps
Upload Speed:
5G NSA: 550 Mbps
5G SA: 900 Mbps
200 Mbps
3G WCDMA:
Band 1 5 8
DL 42 / UL 5.76 Mbps
 
Temperature:
Working: -30°C ~ +75°C
 
Modem Cert.:
CE RCM RoHS
 
Region:
UK, Europe, Australia, EMEA & APAC.
* Except Japan and North America.
Note: The presented download and upload speed are theoretical max rates, and the actual speed rate depends on network conditions.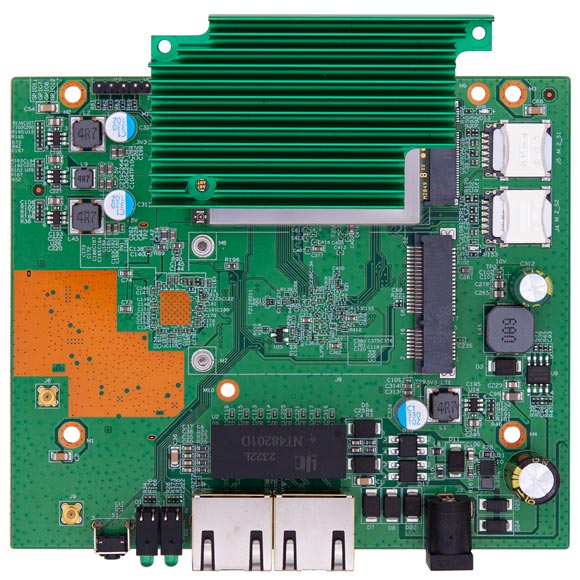 Motherboard Top Down View
EZEN4X Version 2
EZEN4X_V2 - Router Motherboard
CPU Chipset:
MTK7621AT MIPS1004Kec
Clock Speed:
880MHz
Memory:
DDR3 256Mbyte / SPI FLASH 16MB
Modem Socket:
1x M2.0 and 1x Mini PCI Express v2.0
SIM Card Slot:
Double Nano-SIM Cards (12.3x8.8mm)
Indicator:
SIM1 / SIM2 / Power / System / Wi-Fi / Mobile
Consumption:
≤ 25 Watt
Temperature:
Working: -30 to +70°C / Storage: -40 to +85°C
Humidity:
0%~100% RH
Physical Interface:
1x PoE & LAN and 1x WAN
2x Nano-SIM card slots
1x Reset button
Frequency:
2.4GHz: 2412~2472 MHz
5.8GHz: 5180~5825MHz
Wi-Fi Channel:
1~13
149, 153, 157, 161, 165
Speed Rate:
300Mbps
867Mbps
Output Power:
27 ± 2.0 dBm
24 ± 2.0 dBm
Sensitivity:
≤ -64 ~ -91 dBm
≤ -55 ~ -82 dBm
Wi-Fi Standard:
IEEE 802.11 a/b/p/g/n/ac wave2
Modulation:
OFDM / BSDK / QPSK / DQPSK / DBPSK
MIMO WiFi:
2T2R Wave 2.0 MU-MIMO
3 x 5G Antenna:
600~960 / 1710~2170 / 2300~2700 / 3300~3800 MHz
2 ± 1 dBi Gain / ≤ 4.0 V.S.W.R. / >35% Efficiency
2 x Wi-Fi Antenna:
2400~2500 / 5150~5850 MHz
Gain: 5 dBi / V.S.W.R.: ≤ 1.92 / >65% Efficiency
Connector:
N Male
Measurement:
Ø 20 mm / Length 200 mm
Material:
Fiberglass pipe and PCBA feed
Polarization:
Linear Polarization
Impedance:
50 Ω
Input:

AC 100~240Volt 50/60Hz

Output:
52Volt 0.5Amps
LAN Cable
CAT6 outdoor 10-meter cable included
* Support max 50-meter length.
PoE Wiring:
TIA/EIA568B Standard
DC+ 4,5 | DC- 7,8 | 1Gbps Ethernet on all wires
AC Plug:
EU / GB / US / AU standard available
* Ship depends on the destination.
| | |
| --- | --- |
| DC Socket: | Takes wide-range 9~52 Volt DC power |
| DC Jack: | Supports Outer Ø5.5mm / Inner Ø2.1mm / Length 10mm |
| DC Wire: | Supports max length 12-meter |
Note:
1. DC power supply is not included.
2. Do not input overloaded power, especially the electric current!
3. The typical DC power sources are 12V 1.5~2.0A or 48~52V 0.5A.
Mobile Protocol:
Mobile Data, QMI, and 4G-PPP
Command Sets:
MMCLI, QMICLI, and AT command sets
Mobile Status:
SIM card, Connection status, mobile operator
Signal strength (RSRQ RSRP SNR)
IMEI, IP address, and TX/RX data flow
Band Management:
Mode lock between 3G 4G and 5G
3G/4G/5G Band lock on web interface
APN:
Auto APN included
Custom APN parameters available
Mobile Roaming:
On/Off as you set
| | |
| --- | --- |
| Accessibility: | Web GUI interface, SSH terminal, and FTP/SFTP |
| Link Protocol: | Static, DHCP, PPPoE, IPv4/6, and WireGuard |
| Wi-Fi Network: | SSID, encryption, MAC filter, guest Wi-Fi, and Wi-Fi relay |
| Traffic Control: | SQM and Multi-WAN load balancing |
| Firewall: | New port, port forwarding, and custom rules |
| Diagnostics: | Ping Traceroute and Nslookup |
| VPN Tunnel: | IPSec OpenVPN and WireGuard |
| Remote Control: | Free traversal cloud * TR069 available on demand |
You may also like…
| | |
| --- | --- |
| SKU: EZR34-D012 |   |
| CAT12 LTE modem 1x SIM slot | |
| Max RX 600Mbps TX 150Mbps | |
| 1200M WiFi 150~300 yards | |
| 52V PoE with 1Gbps Ethernet | |
| IP67 waterproof enclosure | |
US$

439