Outdoor FRP 4G Omni Antenna
5dB high gain 4G Omni antenna made of Fiber Reinforced Plastic. Waterproof protection, designed for rugged deployments outdoor. Wide 4G cellular frequency 698~2700 MHz.
Wideband cellular frequency 698~2700MHz
Supports all of the 2G/3G/4G mobile networks
High-gain 5dBi and low V.S.W.R
All-Directional Omni antenna
Outdoor design with waterproof protection
Got a weak 3G/4G signals? Upgrade the cellular antenna on your 4G router!
The fiber-reinforced polymer (FRP) 4G Omni Antenna has 4~5dBi high-gain and minimum
voltage standing wave ratio (V.S.W.R.). The 4G omnidirectional antenna receives and transmits wireless signals in all directions.
The marine-class quality and water-resistance feature the F.R.P. 4G Omni antenna support outdoor 24/7 working. Due to high-gain and low V.S.W.R., they provide the high-performance cellular connection with the mobile signal base station and improve the signal reception on wireless-enabled devices, including 4G router, 4G modem, 4G C.P.E., and so on.
F.R.P. (fiber-reinforced polymer) is a composite material made of a polymer matrix reinforced with fibers, usually used in the aerospace, automotive, marine, and construction industries. The F.R.P. radome provides ultra-strong protection to the antenna.
LPDA Log-Periodic Antenna Specifications
| | |
| --- | --- |
| Frequency | 698~960/1700~2700MHz |
| Polarization | Vertical |
| Gain | 4~5 dBi |
| V.S.W.R | ≤ 1.5 |
| Horizontal Beamwidth | 360° |
| Vertical Beamwidth | 30° |
| Max Power | 10 Watt |
| Impedance | 50 ohm |
| Lighting Protection | Direct Ground |
| Connector | N-Male |
| Radome Material | FRP (Fibre-reinforced plastic) |
| Radome Color | White |
| Radiating Element | Copper (CU) |
| Dimension | Dia 20 x 400mm |
| Weight | 160 gram |
| Temperature | -40~70 degree |
Magnetic Mount
The heavy-duty antenna magnetic mount is designed for multipoint mobile applications, including vehicles, boats, public transportation, etc.
The 90mm diameter stainless steel mount has premium quality magnetic with extreme holding power. The mounting location includes flat surfaces of the roof, bumper, trunk lid, etc.
The stainless steel has a flannelette cover to avoid scratches to the object's surface.
Extension Cable
The magnetic mount includes a 3-meter RG58 coaxial cable with an N-male or SMA-male end. A braid screen features the RG58 coaxial extension cable, black P.V.C. sheathed, and solid polythene insulated T.C.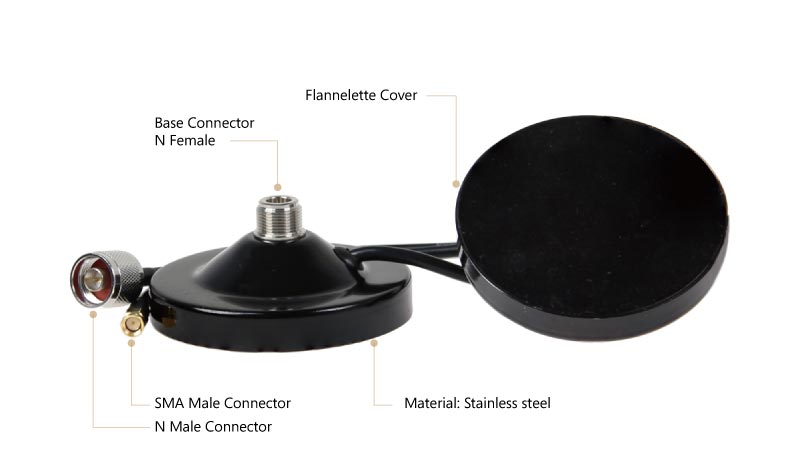 You may also like…
Rated 5.00 out of 5
| | |
| --- | --- |
| SKU: EZT416 | |
| 2x2 MIMO LTE 698~2700 MHz | |
| High-gain 8dBi - VSWR ≤ 1.5 | |
| Wide beamwidth - H360° V7° | |
US$

128 –

US$

153